| | |
| --- | --- |
| RIDER, BRIDGE BALANCE type VOS-150 | |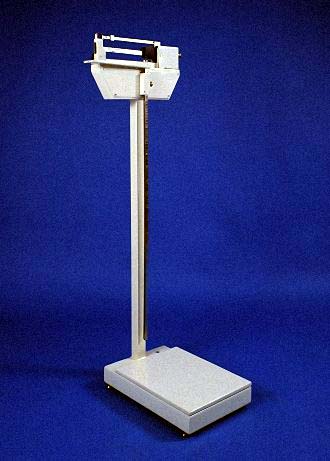 Application:
The balance is designed to weigh and measure the staying person's height. It is applicable in hospitals, G.P. consulting rooms, in spas, sport utilities, schools and so on. The balance is officially tested, the height measuring rule is not verified.
Technical data:
Weighing upper limit:
max 150 kg
Weighing lower limit:
min 2 kg
Lowest division value:
e=d 100 g
Class of accuracy (ÈSN 994102):
III
Load bearing table area:
300 x 400 mm
Height measurement rule range:
1100 až 2000 mm
Balance dimension:
Length:
485 mm
Width:
306 mm
Height:
1318 mm
Balance weight:
10 kg
Description:
The balance is of all-metal design. The holders in which the hardened bearings are mounted, are in encased frame. The lever mechanism hardened blades are mounted into the bearings. The load transfer from the load carrier is carried out by means of swinging suspenders to the lever mechanism and by means of sliding riders and the weighing outcome can be read on the scale. The main scale has division from 0 till 140 kg by 10 kg graduation. The auxiliary scale has division from 0 till 10 kg, division value by 100 gr. The counter-weight situated onto the balance beam left hand side serves for pointer zero-setting prior the weighing. The balance beam is equipped with arrest to prevent the damage within the shipment. The height setting into the horizontal level in accordance with the bubble vial is possible by means of setting legs. The height measuring rule is mounted to the balance frame and its position is secured by screw. The height measuring rule upper part may be horizontally swiveled. The rule is graduated by 10mm. The balance surface treatment is painting with ivory shade, scale rules and height gauge are glossy, Ni coated.